He always provides above and beyond. The other day we were on the way to the ReStore to see if they had some things we needed for the house. Just a quarter of a mile from the ReStore there was a lovely desk from the 1940's on the sidewalk with a FREE sign on it! We loved it. I am typing on it right now. I forgot to take a picture, though.
So, we made it to the ReStore.
Found this chair that I fell in love with.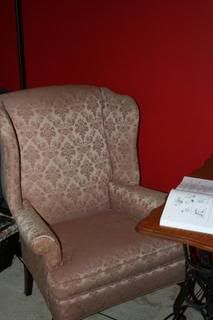 Sonny said that we could have it for $10. The only problem was that we already had the desk bunjeed to the top of the van. We said that we would be back the next day.
So, when we came back the next day, we saw this coffee table.
I loved it. Tommy asked how much for both the table and the chair. He said that for us, it would only be $25 for both only if we promised to take the toys on the porch. A HUGE play kitchen, register, and more play appliances than I've ever seen.
We had also been scouring Craig's List for a good deal on a piano, but hadn't found just the right one yet. Well, my Tommy's mom called the other day and said that we could use theirs. It still sounds beautiful and now the children can practice at home!
Disclaimer: After looking at these pictures I did vacuum, I promise. Good gravy, I had just vacuumed earlier!
Oh yeah, the biggest gift of all?
.
.
.
.
.
.
.
.
.
.
.
.
.
.
.
.
.
.