It was a late night. The Redskins didn't finish their assault on the Cowboys until 11:45. The sleeping children peppered PaPa and Grandma's floor. The awake children were fading fast. We had fifteen minutes until I had an appointment with my camera and our first son. Seven. I can still barely believe it. Our little Ian is seven. In order to be able to get the first minute our little boy left his sixth year behind on camera we decided to stay for just 15 more minutes.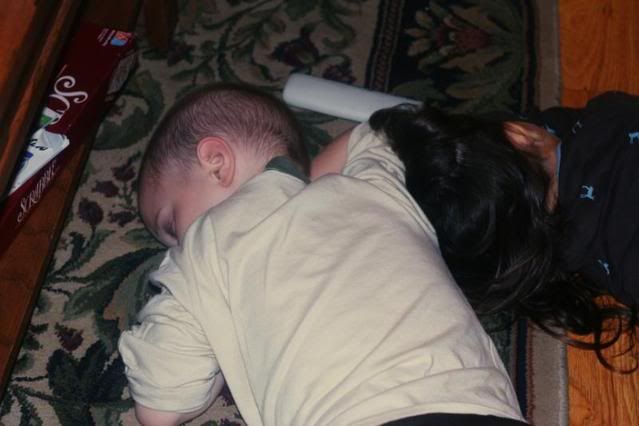 Tommy and I loaded the sleeping football fans into the van. Funny. We arrived with a six year old and left with a seven year old.
The next morning Daddy went to Wall's bakery to obtain the chocolate eclairs the dude wanted for his birthday breakfast, we all enjoyed the oh so rich treat, then started on an adventure down town.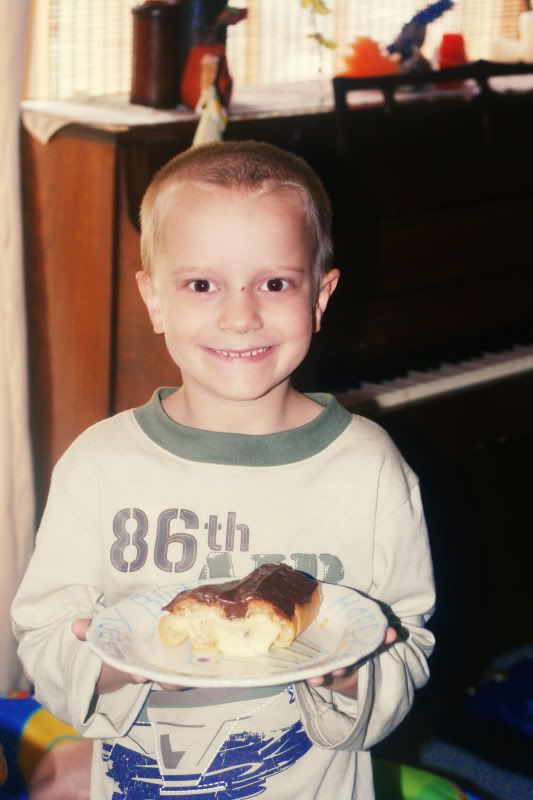 It was a beautiful morning- high, clear skies with a few whispy, soft white, clouds dancing up high as if enticing the sun's rays to come and play. Our drive into the city was calm since everyone was already tucked away into their offices or going to their next meeting on foot. The refreshing breeze that accompanied us on the drive in stayed with us as we fed the parking meeter and made our way- hand in hand into the Air and Space Museum.
The atmosphere inside was night and day from the peaceful one we had left on the shaded concrete steps. Perhaps the angry security guard swayed my view. You see, apparently leaving 5 pairs of scrapbooking scissors in your diaper bag isn't a good idea. Those guards don't take kindly to the thought of being scalloped, zig-zagged, or cropped in any manner. Who knew?
After the offending scissors were removed from the bag, the guard admited that they looked bigger on the x-ray screen than they actually were and allowed us to enter the museum. Just think of the headlines. Family Of Seven arrested at Air and Space Museum. Seven week old infant biggest offender. All involved charged with concealed crafting.
Finally we were able to take in all of the aircrafts surrounding us.
There was an example of a pilot's uniform. The display used a manequin with a clear head. In Katherine's mind, any body with an invisible head is a bad guy. Which she proceeded to inform us repeatedly that there was a bad guy.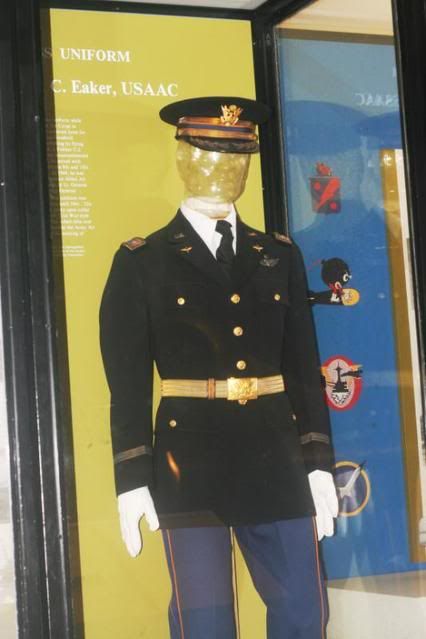 Every time she insisted that he was a bad guy, we insisted that he was a pilot. Then, when I asked her to tell the camera that he was a bad guy, she promptly smiled and said, "Good guy."
The childrens' favorite part was the hands on room.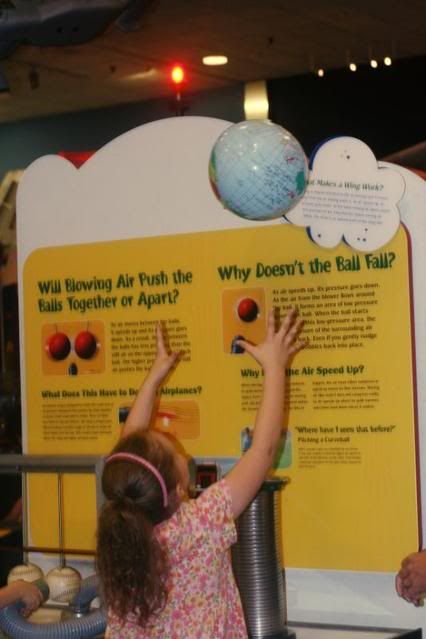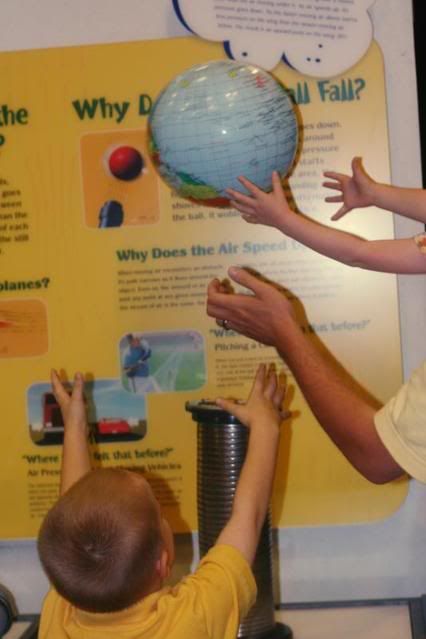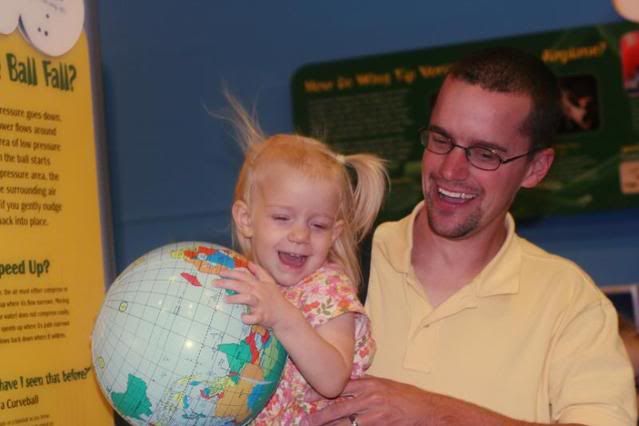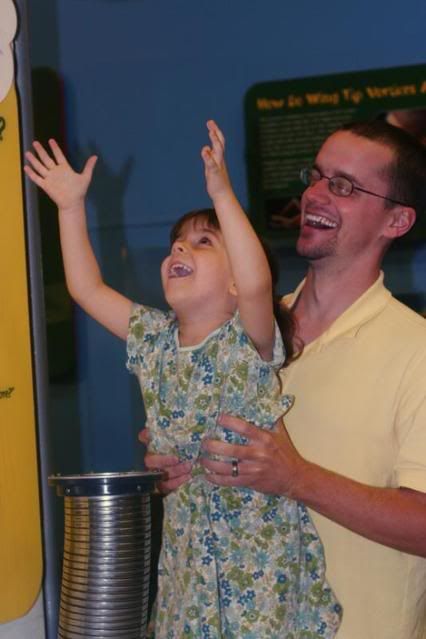 Even though Jonathan was asleep, we wanted to make sure we got a picture of his firt time down town. Please ignore the walrus holding him.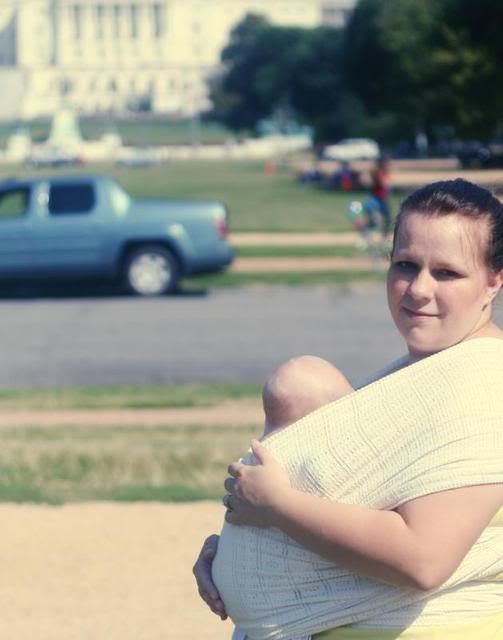 Do you see the pained expression on sweet Emily's face?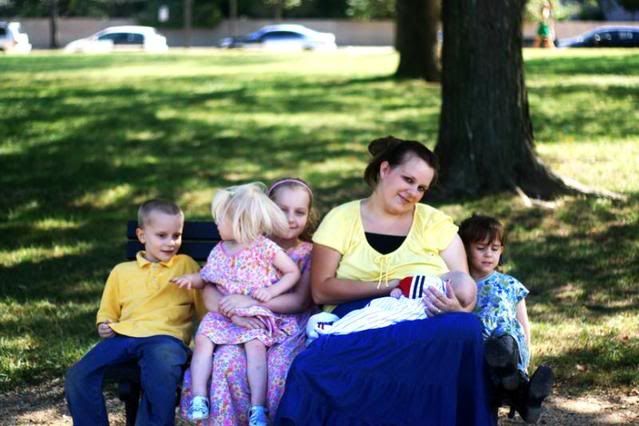 Do you also see that she is wearing cowboy boots? Well. We were packing the van and she confided in Ian that she couldn't find her shoes. Always the loving brother, not to mention anxious to get going, he went upstairs and retrieved his old cowboy boots ... from two years ago so she could borrow them. Fabulous plan, yes?
Well, they rubbed those tiny ankles raw.
Finally, she wasn't able to take them any longer and decided that barefoot was the way to go. However, I wouldn't think it the wisest decision to walk barefoot on the National Mall.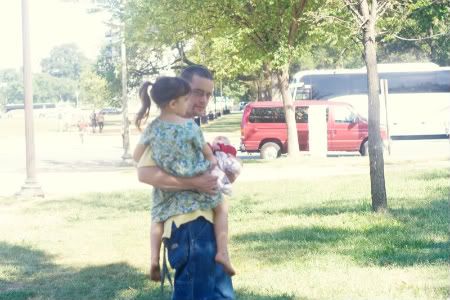 Daddy was sweet enough to carry her to the car so I could convince Katherine that while the squirrel running around our feet may have looked cute, he wouldn't have made a good pet. Not to mention the ninja squirrel that protects our oak tree would have been a tad bit jealous.
Traffic wasn't too bad and in no time we were home enjoying the spaghetti and meatballs that the birthday boy requested. He had already had his birthday cake at the party he and Daddy shared, but I couldn't help but want to see him blow out some candles on his actual birthday.
With a little help from his littlest sister he was able to blow them all out.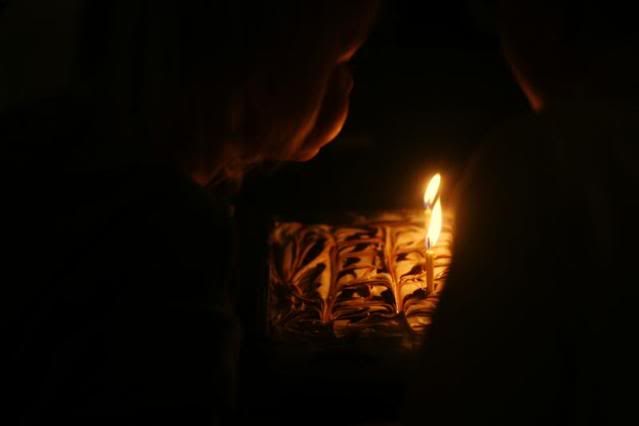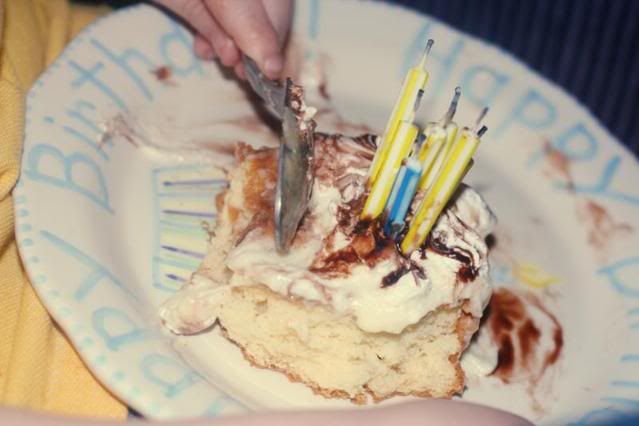 Then, we all. went. to. bed.