Thursday, March 18, 2010
Hey, flower child!
Who, me?
Well, certainly not me!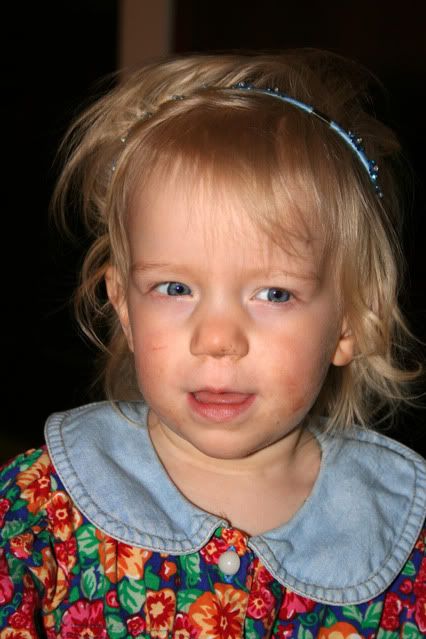 Posted by

Momma Lisa
at 1:16 PM
No comments:

The snow has all melted lazily away and the daffodils are starting to poke their encouraging little heads through the still-wet ground. This morning, the sun beat the alarm clock and pulled us enticingly out of bed whispering promises of what the day could hold. For the first time this year I started a load of wash eagerly knowing that it would be hung out to dry under the sun, dancing in the wind, collecting the smell of that beautiful sunshine. Tonight, I'll drift to sleep wrapped in sunshine under the moonlight and twinkle of the stars. What a beautiful day to enjoy outside. The children laughed, danced, and played. Miss Katherine, a little too eager and not quite as careful as she ought, took a spill landing on her tender little knee. Her cotton candy hair, the color of honeysuckles, lifted and floated back down when she let out a puff of air in disappointment. Sitting now firmly on the ground, she bent her knee and leaned her tiny head to see the damage. Of course, I was making my way to survey the damage myself. Knowing I would be right there, she lifted that little head, tilted it, her sparkling blue eyes scrunched with concern met my eyes while she said, "Kiss it, Momma?" Oh, of course I would. As I bent and gently pressed my lips to that beautiful little knee and the injury that was not much more than smeared mud and a bit of torn skin, she wrapped her arms around my neck. The scent that I had been longing to smell on my quilt later tonight lingered in that precious cotton candy hair. Sunshine. Hello, sunshine my friend, it's been a while. Good to see you back.
Posted by

Momma Lisa
at 1:14 PM
No comments: